Credit Card Skins
Super cute credit card stickers and really easy to apply. These credit card covers approved as a Great Product. You'll love it.
😍 VIEW CREDIT CARD SKINS
5 out of 5 stars!
The website is very easy to navigate and has a lot of amazing options, and if you can't find anything you like you can make your own! This is my second time ordering a cover because I got a new card and that sticker was not coming off my old one!
Omar Harrington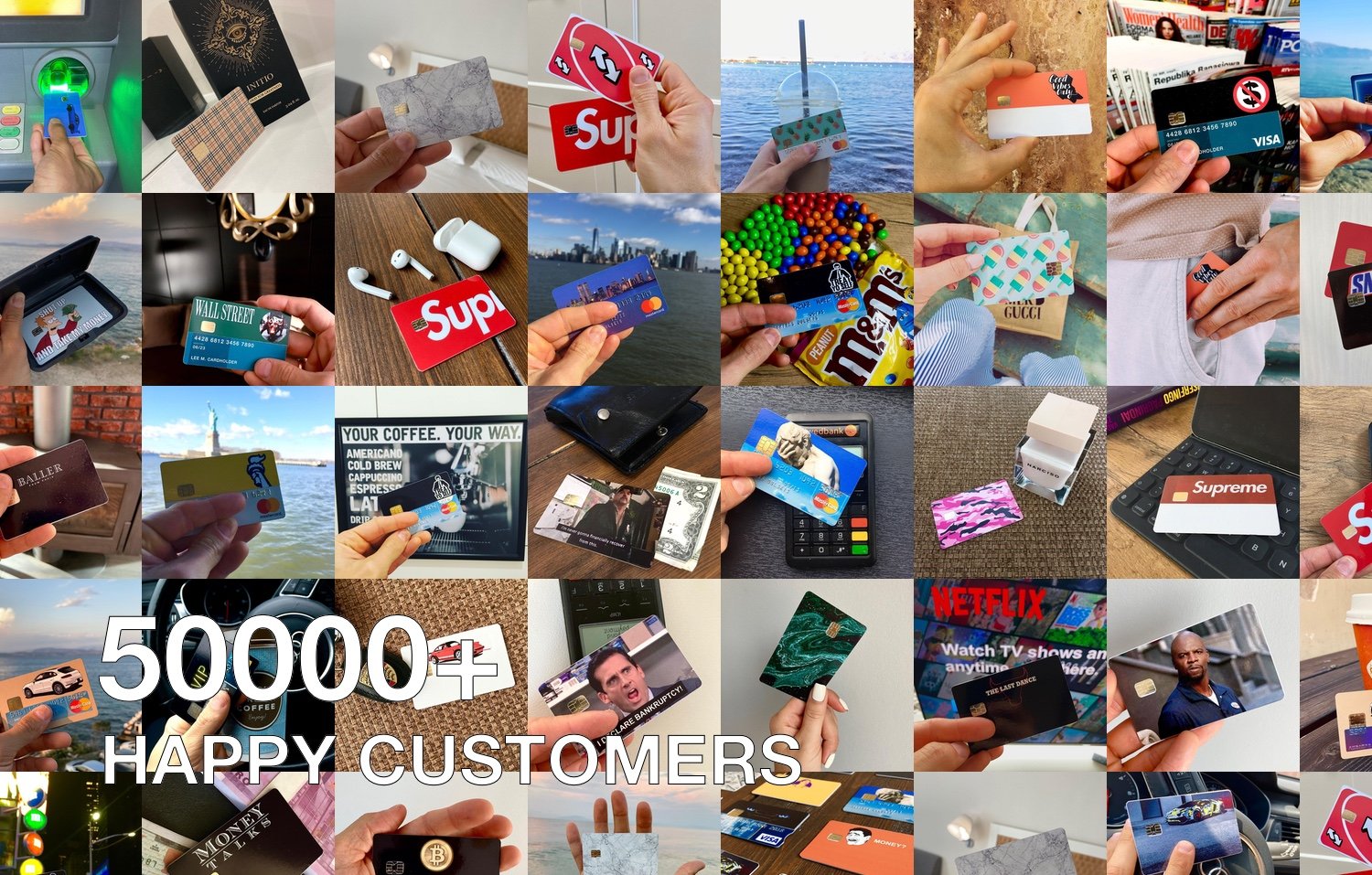 Custom Credit Card
Would you like personalized credit card? Unique bank card skin? Just upload your own pictures and get your custom credit card 😎
CUSTOMIZE NOW
❓Will My Card Still Work?!
✅ YES! After apply credit card cover, You can insert, swipe and tap the same way you're used to.
❓But will it fit my card?!
✅ YES! Using our credit card skins, You can customize ANY card in the World (Visa, Mastercard, Amex... & all the others).
This is how you get customized credit or debit card
Elevate Your Style with Trendy Credit Card Skins and Covers
Introduction:
In today's world of endless customization, why settle for ordinary credit cards when you can make a style statement with credit card skins and covers? These trendy accessories offer a multitude of benefits, from personalizing your cards to protecting them in a fashionable way. In this article, we'll explore the advantages of using credit card skins and covers, how they let you express your individuality, and why they've become a must-have for fashion-forward individuals seeking to add flair to their daily transactions.
1. Showcase Your Unique Personality:
Credit card skins and covers give you the perfect opportunity to express your personality and stand out from the crowd. With a wide range of designs available, from classic patterns to trendy graphics, you can find the perfect match that resonates with your style and interests. Let your credit cards reflect your individuality with these customized designs.
2. Easy Application for Instant Transformation:
Applying credit card skins and covers is a breeze. Most skins come with adhesive backs, making it quick and effortless to transform the appearance of your credit cards. Within seconds, you can turn your cards into eye-catching masterpieces that will draw attention and admiration wherever you use them.
3. Protect Your Cards in Style:
Beyond their aesthetic appeal, credit card skins and covers also serve a practical purpose by protecting your cards from daily wear and tear. These durable accessories act as a protective shield, safeguarding your cards from scratches, smudges, and other damage that could occur with frequent use.
4. Thoughtful and Budget-Friendly Gifts:
Looking for a unique and affordable gift for a friend or loved one? Credit card skins and covers make an excellent choice. Surprise them with a stylish accessory that complements their taste or showcases their favorite designs. It's a thoughtful present that will be appreciated every time they reach for their wallet.
5. Versatility and Cost-Effective Style:
Credit card skins and covers offer versatility that extends beyond their design choices. They are available in a wide range of prices, making them a cost-effective way to elevate your style. You can easily switch designs as often as you like, staying on-trend without breaking the bank.
Conclusion:
Credit card skins and covers are the perfect companions for fashion enthusiasts and those seeking to showcase their unique style. From expressing your personality to protecting your cards in a fashionable manner, these trendy accessories offer a multitude of benefits. Add flair to your daily transactions and make a style statement with credit card skins and covers that reflect your individuality. Transform your credit cards into mini pieces of art and let your wallet become a reflection of your one-of-a-kind style.